Sino-European Terahertz Technology Joint R&D Research Centre formed
Thomas Keating, and European colleagues from the Universities of Cardiff and Bern were delighted to welcome three distinguished spacecraft scientists from the Shanghai Spaceflight Institute of TT&C and Telecommunication, for the formal opening of the
中欧太赫兹联合研发中心'
Sino-European Terahertz Technology Joint R&D Research Centre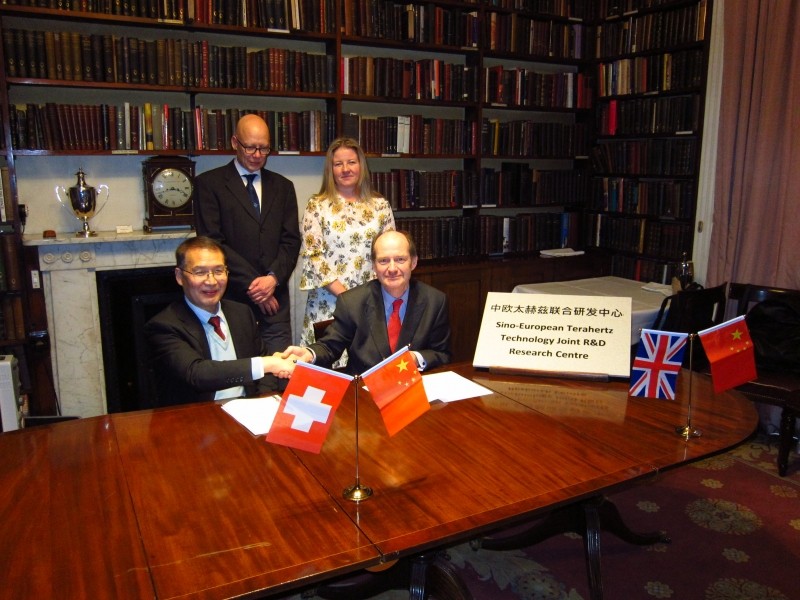 Richard Wylde and Prof. Yu shake hands after signing the agreement
Our visitors, Prof Yu, Zhenchao Xie & Jiang Lifei toured the facilities in Cardiff University on the Monday 8th January, and Thomas Keating on the Tuesday. Our visitors discuss their very ambitious plans for the future geostationary microwave radiometer instrument FY-4M, whose central purpose is to track typhoons which may threaten China and neighbouring countries. By observing from a geostationary platform, and looking inside the typhoon, much earlier warning of its future path can be predicted.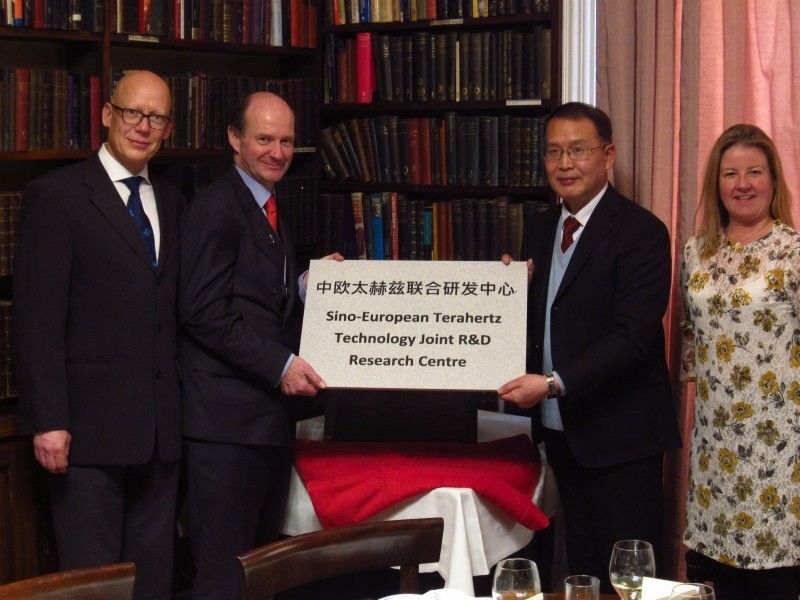 Left to right: Axel Murk, Richard Wylde, Prof Yu and Prof. Tucker
The visits were followed by a formal lunch in the Athenaeum in London, on the Wednesday, where the Agreement was formally signed by Prof. Yu on behalf of Shanghai Spaceflight Institute of TT&C and Telecommunication, Prof. Carol Tucker on behalf of Cardiff University, Axel Murk on behalf of the University of Bern, and Richard Wylde on behalf of Thomas Keating Ltd.
The full group enjoyed a reall good lunch: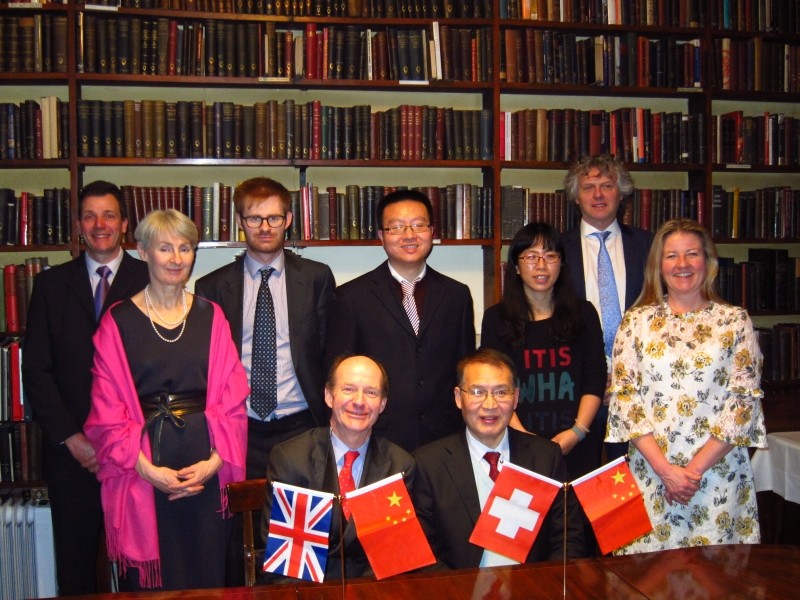 Top row:Left to right. Trevor Walker (TK), George Wylde (TK), Zhenchao Xie (Shanghai), Jiang Lifei (Shanghai), Ken Wood (Cardiff)
Bottom row- Left to rght Lucy Wylde (TK), Richard Wylde (TK), Prof. Yu (Shanghai), Prof Carol Tucker (Cardiff)
By accepting you will be accessing a service provided by a third-party external to http://www.terahertz.co.uk/